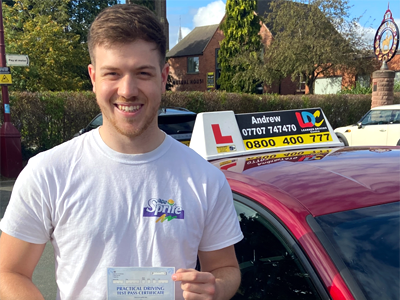 Kyle Furnival
Excellent Pass - Well Done !!
Having had three previous driving instructors. I can safely say that Andrew has been the best. He has been calm and patient with me the whole time. He easily identified my weaknesses and how to improve them. The LDC workbook is a great learning tool which allowed me to learn outside the car. I would definitely recommend Andrew's LDC Driving School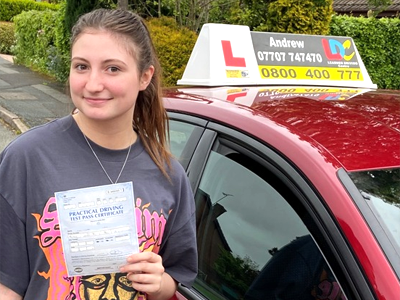 Eleanor Alder
1st time pass
Andrew is an extremely thoughtful and patient instructor. He made learning to drive seem like a straight forward and stress free process by using a variety of teaching methods to suit my needs. He always made me comfortable and calm in the car. In terms of the LDC system I used the workbook before every lesson which I found very useful to help me prepare for them. In general, my driving learning experience with LDC couldn't have been any better and I am extremely grateful.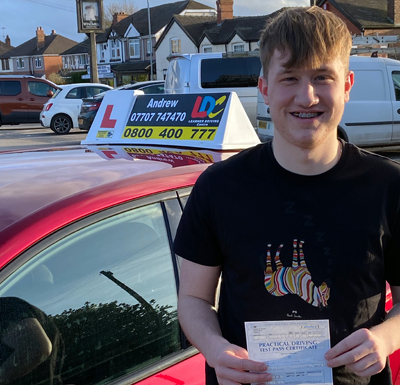 Owen Snelson
Great pass with only 2 minors
As a driving instructor I found Andrew to be quite thorough in ensuring that I had covered all the relevant topics by using the targets in the LDC workbook which also helped me to track my progress. He was patient, kind and understanding when teaching me how to drive and used a range of different methods including the LDC videos, diagrams and demonstrations when needed.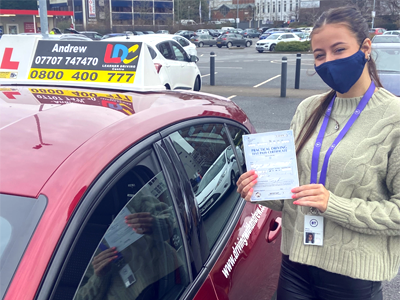 Olivia Holloway
First time pass
Andrew is a great instructor he is very patient and the methods he uses by way of the LDC system has helped me develop my driving skills. Andrew was very helpful and flexible where he could be to ensure I could get the appropriate practise and experience to help prepare me for my test.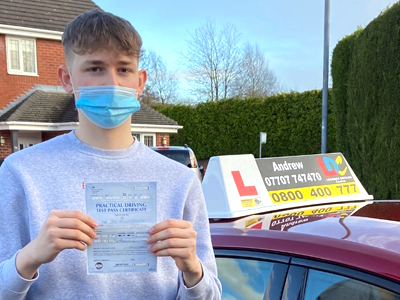 Jay Smith
First time Pass
I felt that my instructor was very flexible with the hours that I had available. I felt that he was very good at teaching me the exact ways to perform each driving technique. Andrew is very friendly and easy to get along with. I thought the LDC workbook was very helpful because I could use it before and after lesson to look up and help me work on any areas of improvement I needed to work on.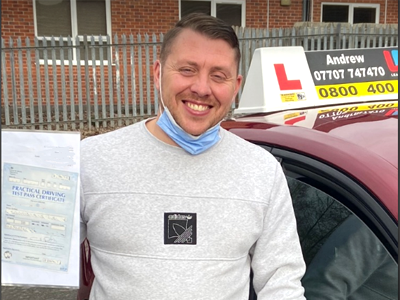 Lee Degg
Great First Time Pass
I thought that being at the age of 40 learning to drive would have been difficult. Having Andy as an instructor made me feel more comfortable and confident on the road and we had one or two laughs on the way too. The most important thing for me was that Andy was so thorough. I went into my practical test feeling confident and relaxed; I remember saying "is that it?" Andy gave me more than enough skills and confidence to pass and I definitely recommend him. Cheers Andy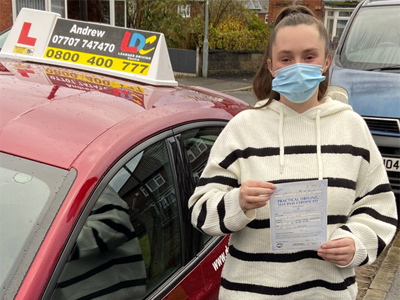 Chloe Stringer
A well deserved first time pass
Andrew has been fantastic, always going out of his way to support me while I've been learning to drive. I especially found the LDC Driving Skills Workbook very helpful to prepare me for the practical lessons. Andrew's learning methods are really good which made me feel at ease during my lessons and the test.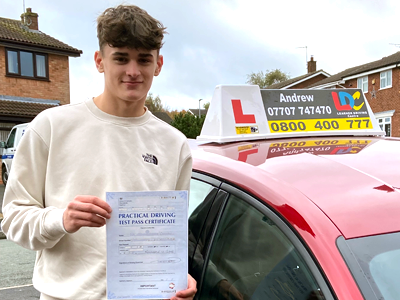 Matthew Crosby
1st Time Pass - 5 minors
I'm so pleased to have passed my driving test first time. Using the LDC Driving Skills Workbook really helped because I knew what to expect and had knowledge of how to carry out the driving task before the lesson, so often I could pick up the new skills quite quickly. Learning with my Dad was fun and he always ensured that we took time to analyse any errors I made so that I understood their potential consequences.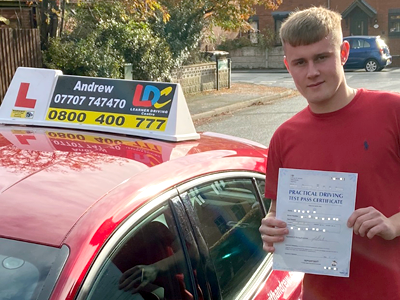 Owen Cox
Great Pass only 5 minors despite all the pre test turmoil with me having Covid
Andy was always patient when teaching me how to drive. His methods ensured that when I made mistakes I understood them and learned from them. I particularly found the LDC Driving Skills Workbook helpful as it helped me to prepare for my practical lessons and the LDC website helped me pass my theory.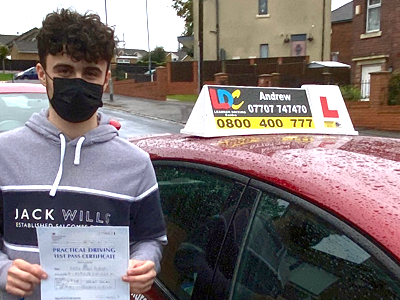 Reece Ferrari
An excellent pass with only 3 minors and compliments from the examiner on your smooth driving
I really enjoyed the experience of learning how to drive with Andrew and feel that I have learned so much. Andrew was always patient with me and when I made mistakes he gave me a rundown of the situation which allowed me identify myself what had happened and to work out myself how to fix it. Driving with Andrew has helped me massively not only with my ability to drive but also with my confidence.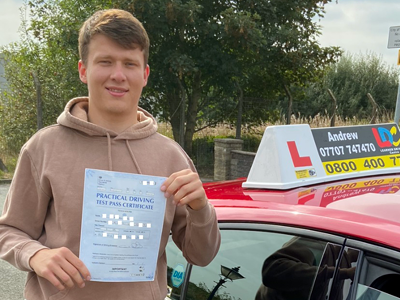 Nikolas James
Excellent Pass - Well Done !!
Andrew is an excellent driving instructor who knows various ways of getting the very best out of you. He is very patient, supportive and relaxes you from lesson 1; when you make mistakes he simply explains how to correct them. Having lessons with Andrew was something to look forward to in the week because I could always have a laugh with him but he still kept things very professional. I would recommend Andrew to anyone wanting to start their driving lessons.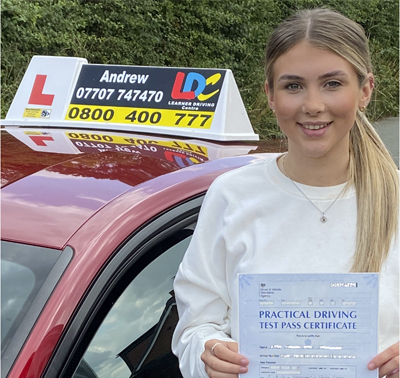 Mollie Johnstone
Frist time pass
Andrew is an excellent driving instructor. He is very thorough and patient and I never felt under pressure when I made mistakes whilst driving with him. I passed first time using the LDC system as it covers every aspect of the test individually and in detail. This gave me more confidence and skills to pass my test. I really enjoyed learning to drive with Andrew.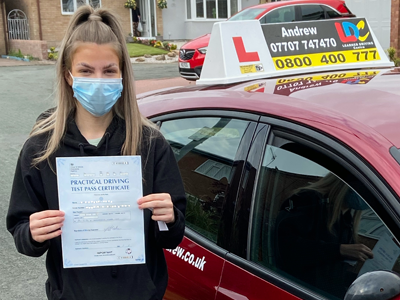 Natalie Bailey
1st time pass
I really recommend Andrew as a driving instructor, everything he has taught me has helped me with passing first time. the LDC way of learning in stages helped me lots and Andrew is very patient and explains everything clearly so you understand.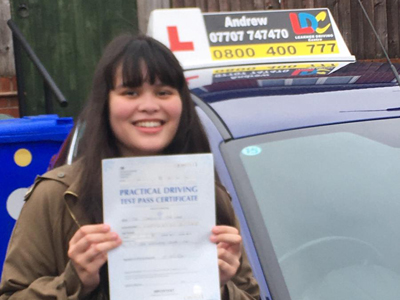 Charlotte Lane
Passed with 4 minors
The LDC System and theory test preparation were essential tools to help me have a better understanding of driving safely and to pass my theory. Andrew is very clear with his instructions and is also calm and helpful during lessons, which was especially helpful when I was feeling stressed. He would explain what to do and emphasise its necessity to ensure a strong understanding of safe driving. By being able to adapt to your specific needs as a learner, you are guaranteed to be able to drive well and safely in response to any situation.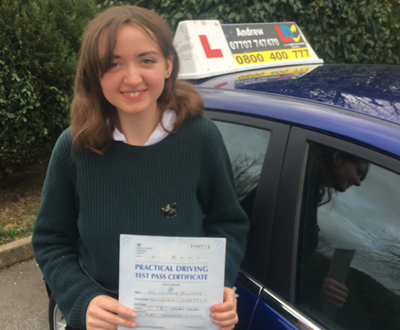 Emily Buckley
An excellent pass with only 2 minors
Andrew was very helpful and adapted his methods to suit my personal needs while I was learning to drive. The LDC workbook was highly informative and extremely helpful in helping me to learn and understand the highway code however a bit more information on the penalty point system could help improve it. The videos on the online portal were also very helpful in providing an insight about how the theory translates practically when driving the car.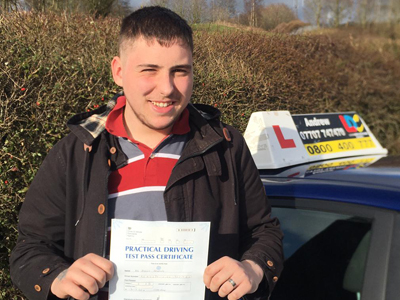 Ashley Arnold
First time pass / Zero minors
Andrew is a very patient instructor, he explains everything in detail to ensure you fully understand. He is easy to get along with and he is always on time. He keeps a clean and tidy car and provides good value for money. The LDC way of learning helped me progress in a steady manner.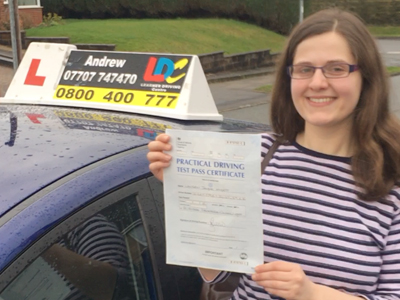 Lauren
An excellent pass with only 3 minors
Andrew is a very patient and understanding instructor, he explains things in a clear and understandable manner and makes you feel very at ease in the car. LDC's provided learning materials were also a great help whilst learning, allowing me to prepare for lessons and easily monitor my progress and anything I needed to improve upon. A big thanks to Andy and LDC.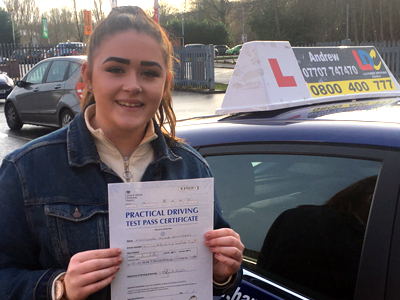 Sheona Killeen
Exellent driving skills Sheona Well Done
Andrew is an outstanding driver instructor and I am so glad I learned to drive with him. He is always professional, patient and supportive making my whole driving experience enjoyable. Andrew is always patient and never shouted when I made errors. He offered constructive feedback which allowed me to make improvements to my driving. Andrew is also very friendly, but always remains professional. The LD system is one of the best. The workbook is extremely useful as it allows you to reflect on lessons and then you can make improvements. I can't thank Andrew enough for all of his help and support over the past couple of months. I am more than happy to recommend Andrew to anyone who would like to learn to drive. Thank you Andrew!